ENROLLMENT BEGINS FOR THE 2019-2020 SCHOOL YEAR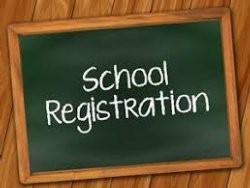 What

ENROLLMENT BEGINS FOR THE 2019-2020 SCHOOL YEAR

When

4/8/2019

Where

CES OFFICE
Directions:
Go to the parent tab on our CES website.
Click on registration tab.
Scroll to bottom for links for NEW STUDENT REGISTRATION.
Download the documents and bring required information for your registration to be complete.

We cannot add names to classes until registration is complete.

PK and Kindergarten: Once completed, you are invited to our ROUND - UP. Please turn in all required information for registration by April 18, 2019 and turn into the CES office
At that time, we will give you our ROUND-UP invitation.

Kindergarten Parents: Don'e forget to print off and complete the survey to help us place your child accordingly. (The survey is part of our registration process).

Thanks and we look forward to meeting our new lil' EAGLES!

RETURNING STUDENTS TO CES:
Click on Link and fill out and return with documents to the CES office by April 18, 2019.
Reminder: We cannot place students on a class roster until registration is complete.
We look forward to another great year with students!
Copy to Google Calendar
•
Download iCal Event